LetsExtract Email Studio Ultimate Business Edition
LetsExtract Email Studio can help your business in so many ways? With this amazing tool, you can easily send bulk emails, search and extract phone numbers, email IDs, and even Facebook or Twitter IDs of potential customers. Cool, right?
Plus, it also enables marketers to crawl websites automatically and collect leads' contact information hassle-free. It's perfect for those looking to grow their email list and expand their reach. Make your marketing a breeze with LetsExtract Email Studio!
Description
LetsExtract Email Studio Ultimate Business Edition
All-in-One
Email Marketing Software
Bulk Email Sender

Phone Numbers Extractor

Email Scraper

Email Verifier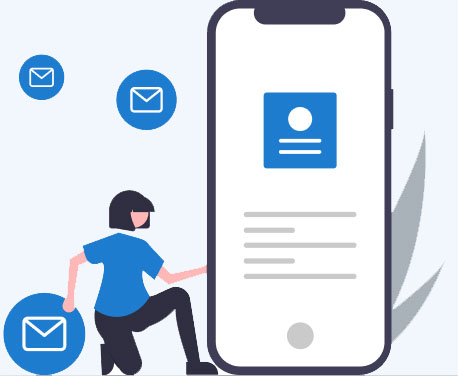 Extract emails
by Keywords
using Search Engines with
LetsExtract Email Studio
Our product supports keyword search via Google, Bing, Yahoo, Ask, AOL, Baidu and Yandex. For example, type in "plumbing fixtures store" or "plumbing store" if you wholesale plumbing fixtures.

You will get TENS OF THOUSANDS of search results! Email Studio will automatically crawl the websites from the search results, parse the webpages, and extract email addresses and phone numbers along with their owners' names.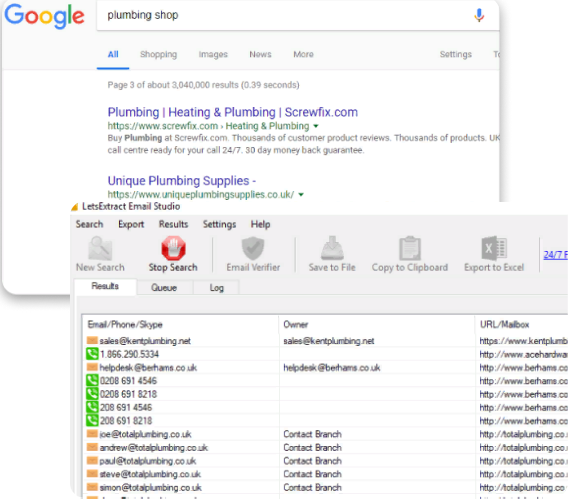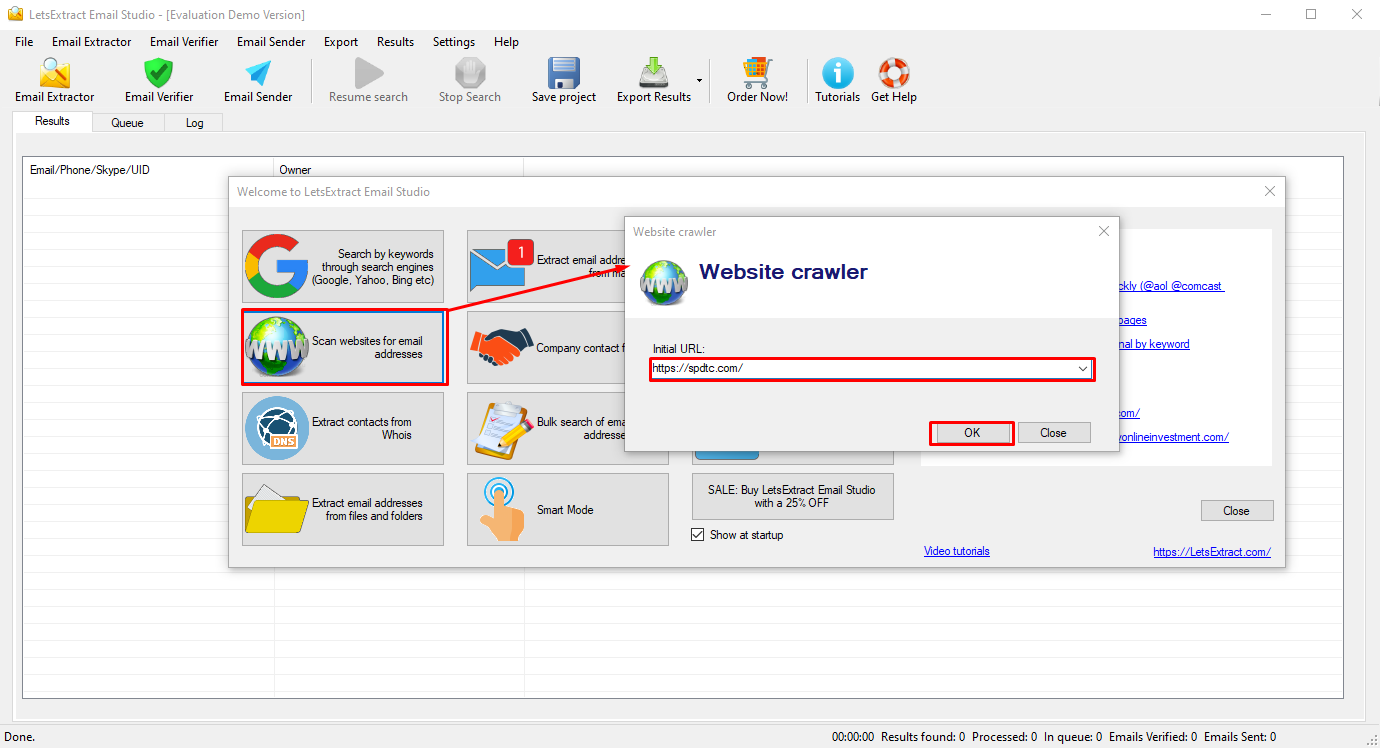 Extract emails & phones
from websites
with built-in website crawler
Unlike many web-based tools, Email Studio's built-in crawler allows you to scan an unlimited number of webpages. Moreover, you can use it anytime without paying a monthly or per-use fee.
Say, you need to promote a crypto currency project. If you know a forum frequented by bitcoin aficionados, you can extract their email addresses with Email Studio's scanner, and then send your newsletters to them.
Extract Emails from Facebook & Twitter
✅ Of course, you can simply buy Facebook ads, but there is an alternative approach: You can use LetsExtract to extract names and contact details of people who belong to a specific group or like posts on a specific subject.
✅ Unlike many web-based tools, our product can collect an unlimited number of leads. LetsExtract Email Studio allows you to pick out people by such criteria as their interests, position, place of residence, or language.
It's a marketing expert's dream come true!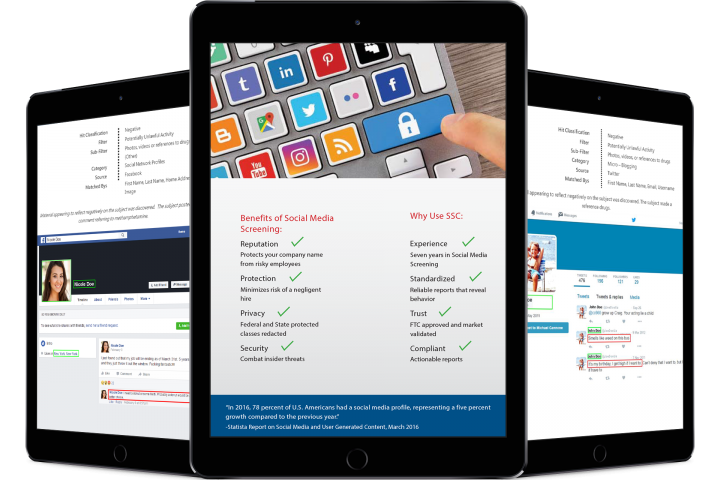 Our software will automatically scan social media profiles
and extract such information as occupation, education, likes, and comments. It will also extract the users' public email addresses and phone numbers. If a group or user has provided a link to their website, Email Studio will follow the link and extract email addresses, phone numbers, and other contact details directly from that website. It will also search for the users' Facebook or Twitter UIDs on the Web in order to find their email addresses and phone numbers.
Your potential customers are waiting for you. Make sure that you use the right tool to find them!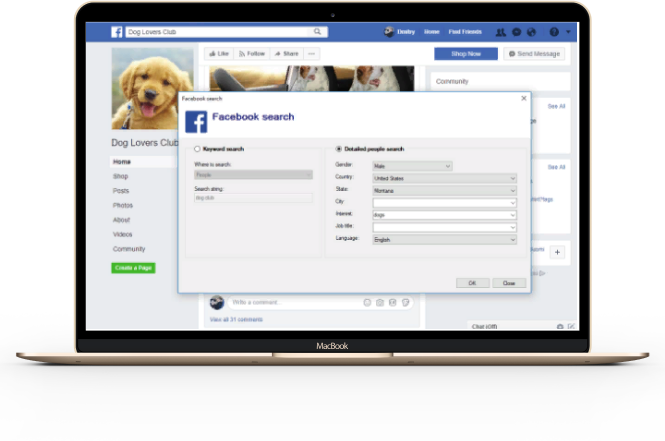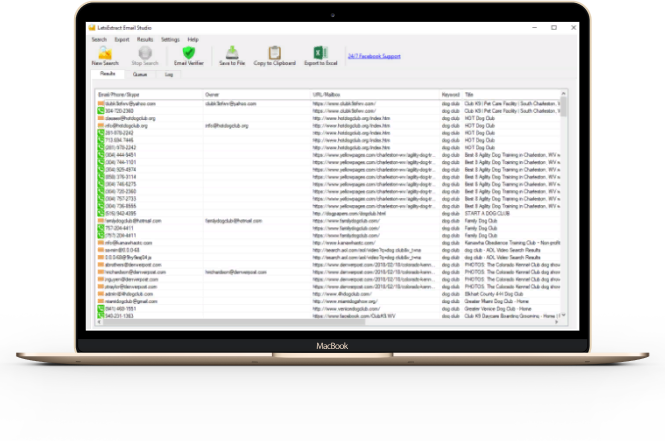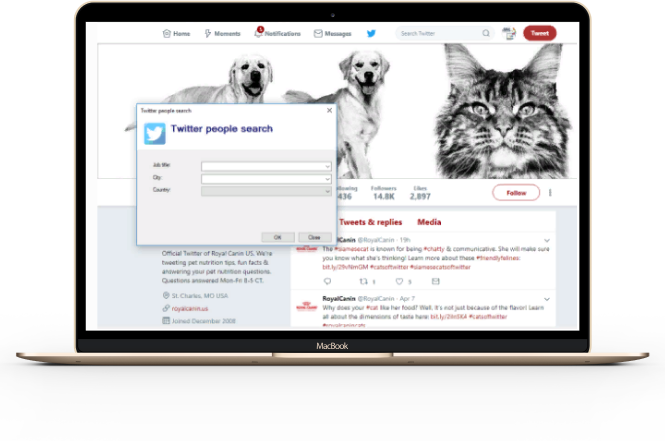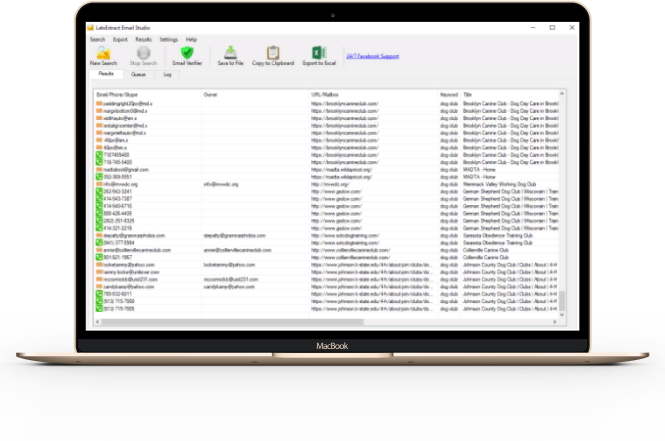 LetsExtract Email Studio's functionality
is not limited to using search engines and extracting leads from websites and social media✅ SEND PROFESSIONAL EMALS
✅ BUILT-IN EMAIL VALIDATOR
✅ PHONE EXTRACTOR
✅ EXTRACTING EMAILS FROM FILES & FOLDERS
✅ EXTRACTING EMAILS FROM MAILBOXES
✅ EXTRACTING EMAILS FROM YELP
✅ BATCH MODE
✅ COMPANY CONTACT FINDER
✅ GOOGLE MAPS EXTRACTOR
The most powerful Google Maps scraping tool to instantly generate a ton of leads, anywhere in the world. LetsExtract extracts name, email, phone number, addreess, website, and more information from companies.